Imagine if you could literally sleep online!
Well, that's not possible (yet) but you can buy a mattress online. Comes pretty close, right? In this post, we'll take you through a simple 3-step process to help you make the best mattress purchase you ever dreamed of, in 5 minutes or less.
1. Compare and contrast
Gone are the days when buying a mattress only involved walking to a local store and carrying a heavy mattress back to your house. We hope you know the type of mattress you want in terms of firmness. If not, check our guide.
Most mattress companies and third-party vendors like Jumia and Masoko offer the convenience of buying a mattress online. On the flip side, that makes it difficult to settle on the best mattress. So before you pull out your wallet, we'll help you do your homework and make sure your that vendor ticks most if not all these boxes.
Good authentic reviews
People's comments and reviews on a company's social media pages tell a lot about its products and service delivery. To go the extra mile, you can ask for reviews on a relevant Facebook group or even your Instagram, Twitter or Facebook timeline then sit back and listen to the voice of the people.
Ironically, you can also tell a good mattress or mattress company based on its negative online reviews. Use them to investigate how a mattress vendor handles issues with their product or customer experience. In addition to a high-quality mattress, you also deserve the best customer experience.
Clear payment policy
Cash on delivery is obviously the most trustworthy payment option since you only pay once you have received your mattress. However, to avoid losses that occur when a client places an order and cancels it upon delivery, some companies might require you to pay a deposit or the full amount once you make the order.
Your vendor should be clear on what their payment policy is so that you can compare and choose the best. Clarity is key here. If you're a little short on cash, you can also ask about product financing options, where you can pay in installments. Learn more about MoKo furniture payment options to see how this works.
Delivery
Ask questions like – how long after placing my order can I get my mattress? Do you offer free or paid delivery services? If not, will I have to pick it from somewhere?
The better choice here would be a company that offers free delivery or a small delivery fee. At Moko we deliver within Nairobi and countrywide at a small fee.
Return policy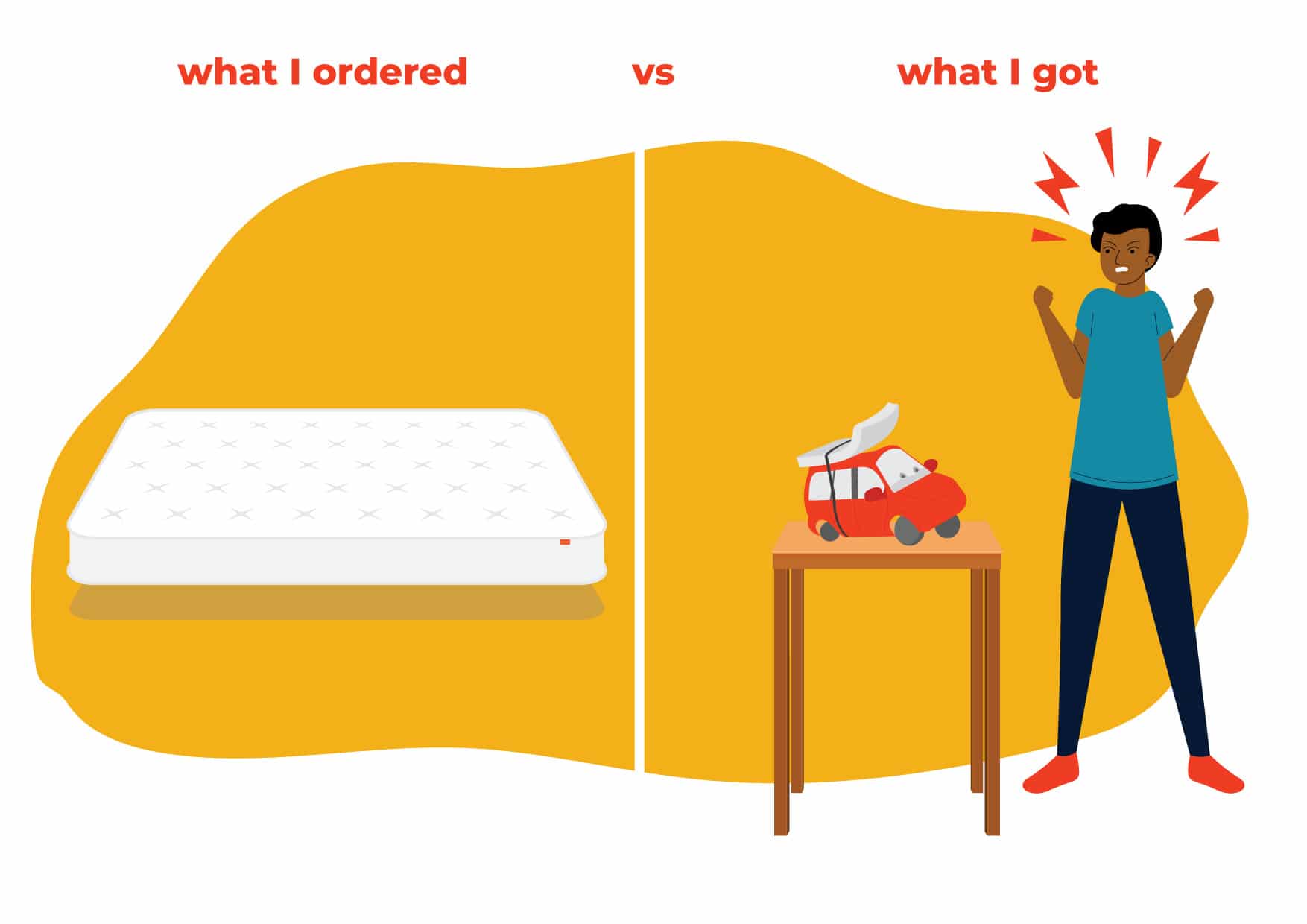 We've all heard about such online shopping shenanigans. The memes are funny (lol) but the experience is dreadful. To put you at ease, any good mattress company will offer you a return policy. MoKo offers you a 45-day trial period, where if you don't like the mattress for any reason, you can return it to get another one or your money back.
Warranty
You deserve to enjoy that zero-worries kinda sleep. Before you buy a mattress, find out if your vendor is willing to guarantee your naps. If so, inquire and fully understand what exactly is included in the warranty terms and conditions. A good warranty is proof that the company actually believes that their mattress is as good as they say.
"But what does a 10-year mattress warranty even mean?" It's a question we often get at MoKo. Simply put, we'll replace your mattress if, within 10 years starting the date of purchase, it gets body impressions that sink more than 0.5 inches. We'll also replace your mattress if it has technical defects such as lumps or odors. Pretty cool, huh?
Additional charges
The price of mattress is often the most obvious cost you'll incur when buying a mattress. However, you may have to incur additional charges depending on your vendor. These may include delivery charges or an extra amount payable if you need to change your order or return your mattress.
Ideally, additional charges vary from one vendor to the other. Be sure to ask the sales rep about possible additional charges so that it doesn't come as a surprise.
2. Place your order
Having done your homework and settled on the mattress of your choice, making your order is the next exciting step. You can easily place your order on your vendor's website or even on WhatsApp. A customer care representative should then be in touch to keep you updated on the status of your order. If no one gets in touch with you within 48 hours, consider that a red flag and run like the sleep warrior you are!
3. Sleep like a baby
Nope. We didn't fast-forward to the best part. It's actually that easy to buy a new comfy mattress and start enjoying sweeter dreams and incredibly refreshing naps.
A third of your life is spent in dreamland, but it shouldn't take that long to buy a mattress online.