At MoKo, we believe that every Kenyan deserves to enjoy high-quality and affordable furniture. This is why we have partnered with the best product financing companies for you to enjoy flexible payment options for furniture. You can now reserve your MoKo furniture and pay for it in instalments.
Currently, we have partnered with:
Flexpay a.k.a lipia polepole

Aspira a.k.a lipa baadaye

Lipa later a.k.a buy now, pay later
A Brief Overview of Each option
Before we get into the details of how to take advantage of each of the aforementioned product financing options, here's a quick snapshot of what to expect from each of them:
Flexpay (Lipia Polepole)
Aspira (Lipa Baadaye)

0% interest for all purchases.

 

The maximum payment period is 90 days.

We'll deliver your MoKo product once you complete payments.

The maximum payment period is 12 months. 

Once the purchase is approved, you will own your MoKo product and pay for it later.

A minimum deposit of only Ksh. 500 is needed to get started.

If you are a return client, you can start making payments 30 days after placing your order and getting MoKofied.

For first-time users, a 10% initial deposit is required. You'll also pay a credit protection fee upfront (3% x loan amount + interest)

CRB checks are not required.

The service provider will also run a CRB check as part of their due diligence to ascertain your creditworthiness.

The application process simply requires your full name, email address, phone number & your initial deposit (a minimum of Ksh. 500).

The registration process simply involves providing your personal details: email address, phone number, and ID number. 

You'll also need to submit your latest payslip, bank statement, MPESA statement, and a copy of your National ID/passport.

Loan limit is based on a personal choice of how much you can afford to settle within the stipulated 90 days.

The loan limit is calculated based on your current income, average expenses & other financial commitments such as debts.
Lipia Polepole (Flexpay) Payment Option
Now we move on to the part where we use our psychic powers to foresee questions you have on your mind regarding each of the two product financing options we've partnered with.
Flexpay allows you to pay for your product and collect it once you finish making payments.
😃Start with Ksh. 500 minimum deposit.
😃Pay the rest within 90 days.
😃At 0% interest.
Okay, how do I get started?
There are two ways to reserve your dream MoKo item: via our website or using a USSD code.
a) Via our website
Click on the product you'd like to buy (e.g.

Zzze Hug MoKo Bed

)

Choose the other particulars such as color, bed size or

headboard cushion

Select the quantity you wish to buy, then click the Lipia Pole Pole button.

Enter your full name, contacts and initial deposit (minimum is Ksh. 500).

Once you make a booking, you will receive a text message prompting you to process the stated deposit to the Mpesa till number 700164.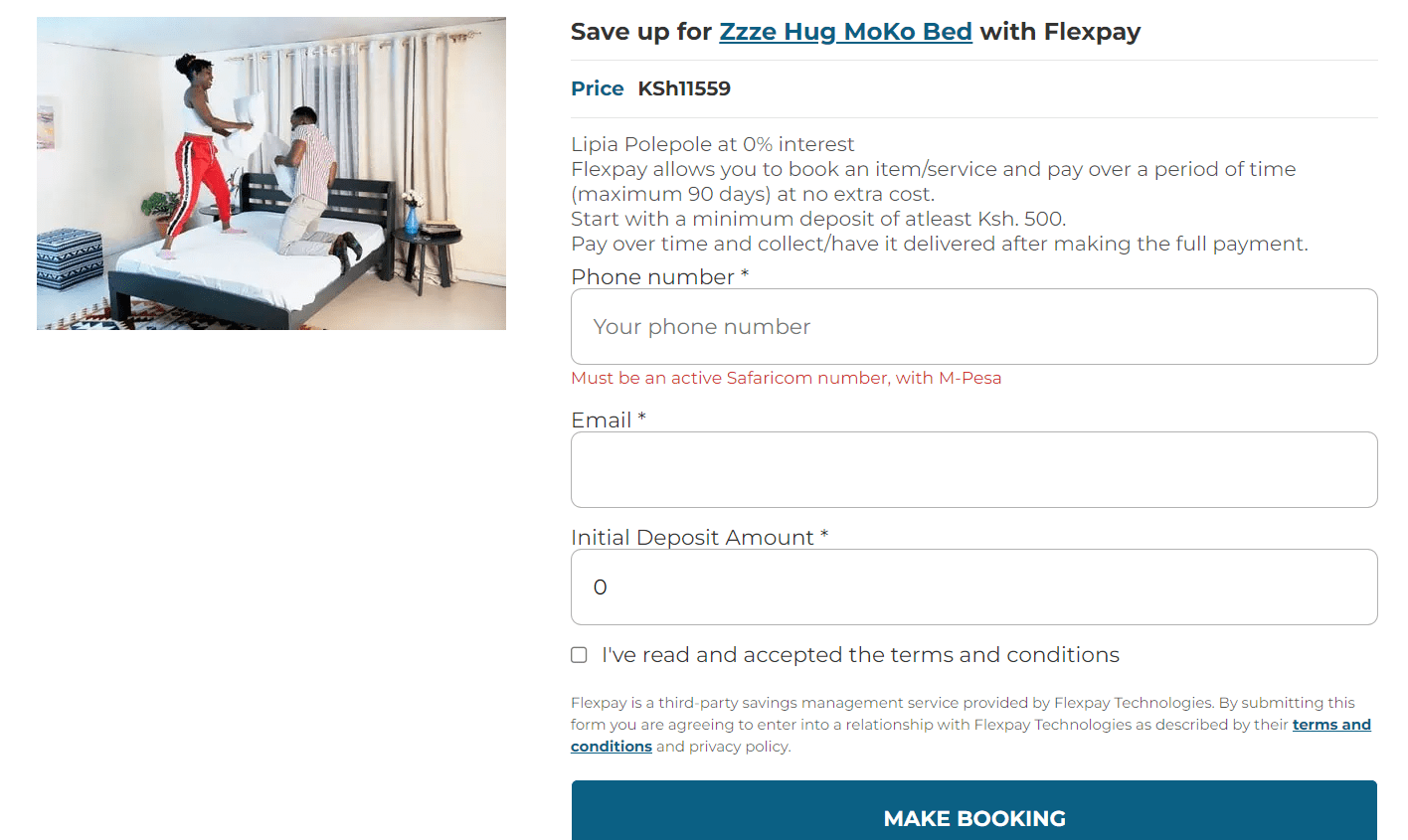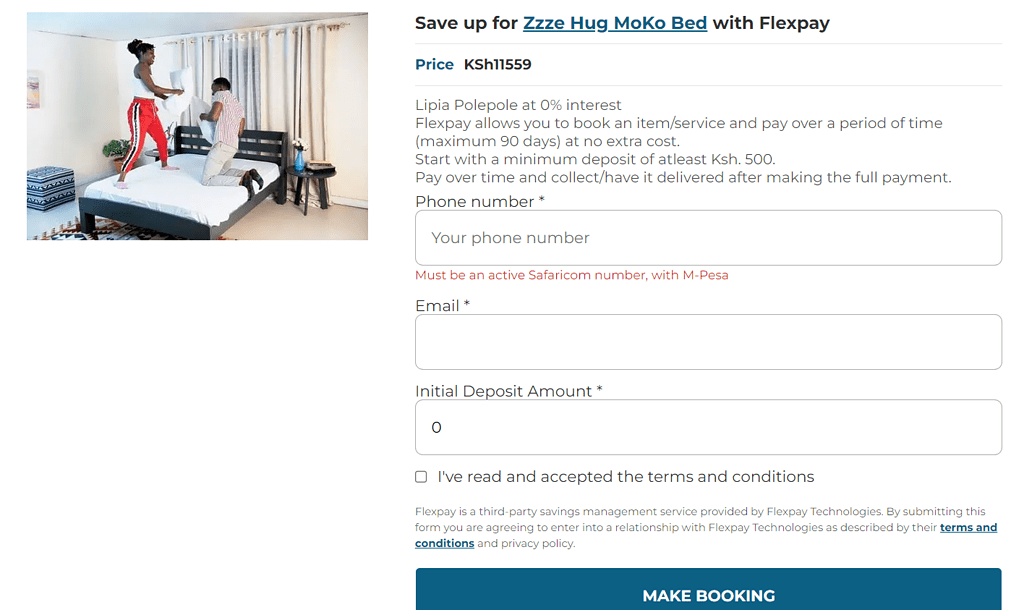 b) Using a USSD code
Dial *384*30#

Select option 4 to add a product. The minimum initial deposit on any product is Ksh. 500.
Um, how do I settle the remaining amount?
Dial *384*30# whenever you like to make subsequent payments or check your booking balance. Once you reserve your dream product, you have 90 days to finish making payments. There is no limit to the amount you can pay on each installment or the number of installments you can pay.
So what happens once I complete making payments?
Once you receive a message that you have settled the full amount for the reserved item, please contact us. One of our smiley customer care agents will verify this, place your order and help you to schedule a delivery. We deliver furniture within and outside Nairobi depending on the item and location. Check our furniture delivery charges to learn more.
Unless one of our customer care agents advises otherwise, you can expect to be united with your comfy MoKo product within 24 – 48 hours upon confirmation of full payment. For MoKo sofas, production will begin immediately full payment is verified and you will receive your cozy, modern sofa within 1 to 2 weeks.
And can I get a refund?
Absolutely. You can contact us to cancel your reservation at any point and request a refund. Please note that all refunds are processed on the 21st of every month. You'll also be charged a 7% facilitation fee.
Aspira Payment Option
With Aspira, you also get to order, go home with your new MoKo product, and live happily ever after with your as you pay for it later in convenient installments.
So how do I get started?
Once you set your eyes on the MoKo product you would like to own, go ahead and download the Aspira app to register and apply for the amount needed. The app is available on both Apple Store and Google Play.
To register and find out if you qualify for the amount needed to make the purchase, you'll need to fill out a few details. These will include your financial details and supporting documents such as your latest payslip, bank statement, MPESA statement, as well as a copy of your National ID/passport.
From there, you'll need to confirm your terms by signing the financing contract and paying a credit protection fee through Pay bill No 711136 and your ID number as your account number.
Yay, now how do I shop?
At this point, a MoKo agent will get in touch to place your order and organize the delivery of your product. You will start paying convenient monthly installments 30 days starting the date you ordered.
There is it folks! These are our product financing options that we have partnered with to help you enjoy MoKo's high-quality furniture and mattresses at affordable and convenient rates.
Hold up, are there any hidden fees in any of these options?
Definitely not. All the charges you'll incur are well stipulated in the sections above.
Do I qualify for the warranty?
Totally! Regardless of the payment option you choose, your MoKo mattress comes with a whopping 5-year warranty. This means we can replace it for you if it develops sleep-depriving issues such as sinking more than 0.5 inches within the 5 years.
Cool, take me to your shop now.
Finally😃! We thought you'd never ask. Select any of the following product categories to start shopping:
If you have any more questions and would like to speak to one of our smiley customer care reps, call/WhatsApp us on 0701 61 61 61 or visit any of our showrooms.