Are you looking to buy a quality mattress in Kenya? There's a huge chance you've heard about MoKo. It could be from your friends, family or social media chatter. Being the smart shopper you are, you must have thought or asked: give me one good reason why I should buy this mattress. Well, we're glad you asked. In fact, here are five solid reasons why you'll love the MoKo mattress.
1. It's the authentic definition of a heavy-duty mattress
Not only does the MoKo mattress bring heavy to heavy-duty it is also firm and comfy to ensure that you enjoy refreshing naps every day. You might be wondering: what is really in this mattress and how come you're so confident that it's what I need? Here's an exclusive tour of how we cook your MoKo mattress and what makes it oh-so-comfy.
2. We deliver Countrywide!
Carrying the MoKo mattress around from our showrooms to your home is not a task for the faint-hearted. Not to worry though. We handle all the heavy lifting so that you can focus on the heavy sleeping. Once you place your order, we'll deliver your mattress the next day within Nairobi. For outside Nairobi deliveries, you will just wait for up to 7 days maximum. You can check our mattress delivery charges info, with terms and conditions.
When Juliet thinks of our delivery team, words like wow and mwaaah come to mind. We strongly suggest that you believe her.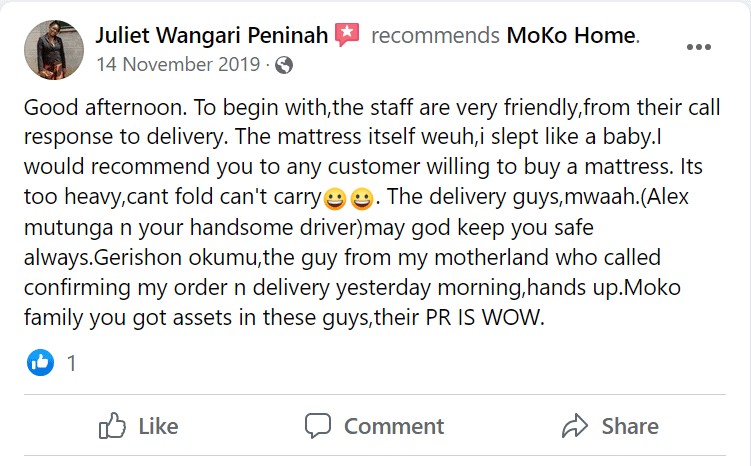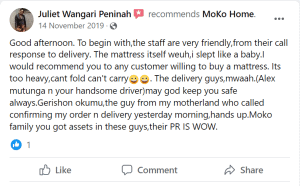 3. Mums love it and mums are never wrong, right?
The MoKo mattress is a certified holder of the Mum Seal of Approval. Over the years, we've been honored to MoKofy hundreds of happy families. We all know that when our amazing mums like Tracy give a five-star rating, no one can overrule that. It's the ultimate sign from the universe that whether you are looking to buy your own mattress or get one for your dear friends and family, MoKo is the place to shop. As you spread the word, please take advantage of our referral program.
4. It comes with a whopping 10-year warranty
It comes as a surprise to many to hear that this high-density foam mattress comes with a 10-year warranty. The warranty covers those pesky issues such as your mattress sinking more than 0.5 inches in the stated period. It's our little pinky promise to you that once we make this foamy pact, we're fully committed to serving you with better quality sleep.
5. There's more to it than a pretty face
The unique pattern on this sleep haven will definitely sweep you off your feet. Once you get to know each other, like Cherop Kae, you'll soon realize that there's more to the MoKo mattress than meets the eye. Sweet sleep, happy nights, refreshing mornings, smiley days. You get the gist, right?
We hope this gives you not one but five solid reasons to buy the MoKo mattress today. In that case, you can now place your order and one of our amazing customer care reps will be in touch with you shortly. Most people speak the world of them (our customer care team) and once again, we strongly urge you to believe them.