Of all of the rooms in your house, the living room is by far one of the most important ones. After all, your living room is your entertainment center, the place for cozy movie nights with the family, and where your guests mingle when they visit.
Before delving into the intricacies of living room design, why not consider adding some delightful animal decorations to this integral space? These charming and whimsical owl decor pieces can infuse your living room with a touch of personality and warmth. Owls, with their timeless appeal, not only lend a sense of coziness but also serve as conversation starters when guests visit. So, while pondering the design elements for your entertainment hub, think about incorporating owl decorations that will not only make your living room inviting but also create a captivating and unique ambiance for those cozy movie nights and social gatherings with family and friends.
So, it's not surprising to feel a bit intimidated about decorating this important room. Not to worry, we're sharing our step-by-step guide on how to decorate a living room to make it look like it came straight out of a magazine.
Things to consider when decorating your living room
1. Mix Light and Dark Colors
It's important to have a mix of both bright and dull colors when decorating your living room. The dynamic combination creates a sense of balance and makes your space look more appealing.
How do I know which colors to match?
We get it: matching colors can be a daunting task. you have a few tips to help you do this within a few minutes.
Borrow inspiration from Pinterest
Sometimes, you're not even sure where to begin. That's where Pinterest comes in. Using search terms such as "living room decor ideas", you can find a variety of images that you can use as inspiration to decorate your own home.
Use an online color palette generator
If you're only sure about one color, possibly your favorite color and are confused about what to pair it with, you can simply run a quick Google search for the term "color palette generator". You'll get a wide range of tools such as Coloors and Canva that generate a combination of colors that work you'll together.
Most of these tools have a library of color palettes that you can choose from. Some, such as Visualize Colors by PPG paints, even allow you to virtually paint rooms using the color scheme you've selected. It gives you a better picture of what your house will look like before you go out and buy that paint.
2. Contrast Your Neutrals
Beyond including some white and some black, decorating a living room with a variety of contrasting neutrals goes a long way toward making it feel rich and welcoming. In this example, the white walls, caramel leather, brass hardware, gray sofa and blue-gray cabinets all contrast with one another, which highlights their different finishes and undertones. This makes the palette feel rich even before other key elements, such as color, pattern and texture, are added.
3. Play With Texture
Texture is easy to overlook when decorating a living room, especially since you don't see it so much as touch it. But it's important for making a living room feel cozy, and that goes for plush textures that appeal to the touch as well as harder textures that add contrast. When you decorate your living room, include a variety of textures such as leather, cotton, wool, metal, stone, glass and even plant life.
4. Work in Some Wood
You can't talk about texture without talking about wood, one of the top materials for bringing a sense of warmth to a living room.
There are so many ways to add wood, any of which will make a space feel a bit more inviting. Wall paneling, side tables, movable stools, TV stands, picture frames, sofa legs and carved pieces of art are just a few of the many wood options you can explore.
5. Mix Up Your Upholstery
Most furniture stores give you the option of purchasing an entire living room set in matching upholstery, but that doesn't mean you should do it blindly. In a formal seating area, matching upholstery can give a sense of maturity and order, but if you want a living room to feel cozy and welcoming, mix and match your upholstered pieces to give the design a bit more personality.
For example, you can mix fabric sofas with a leather chair so that the materials contrast in an obviously intentional way. It gives the living room design some diversity, which can also give members of the family different options to suit their seating preferences.
6. Choose Practical Fabrics
It's especially important for your living room furniture to not only be comfortable but also durable. Durability here will depend on your environment, especially factors such as whether you have babies or pets and whether they are messy or tidy. In general, mid-tone fabrics are the safest bet and require the lowest effort to style.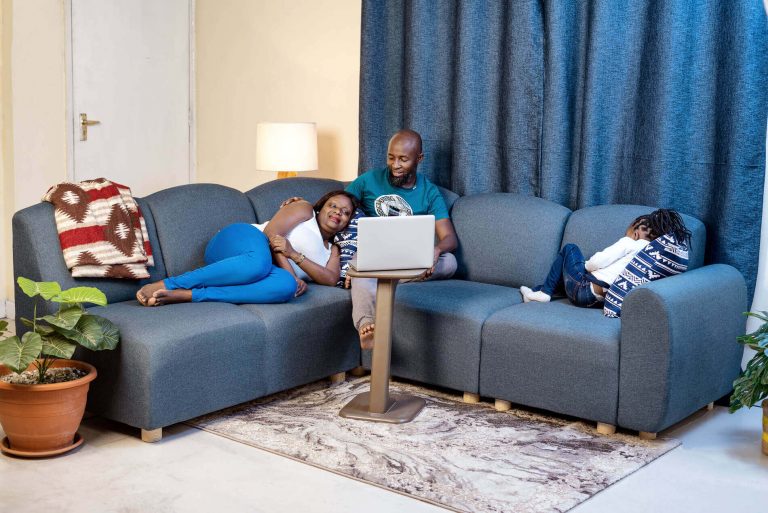 When choosing fabric for your living room furniture, look for a material with a blend of natural and synthetic fabrics to get the practical features of both. If possible do a bend test of a fabric swatch to make sure the weave appears tight and doesn't reveal the backing material. A tight weave will be more durable than a loose one (which leaves lots of space for dirt to hide), no matter the material.
If you have young kids or pets, ensure you choose a material that can be easily wiped clean when a spill occurs. You don't want stains on your couch now, do you? You should also avoid materials such as leather because your kids or pets could easily scratch it.
7. Add a Dash of Color
While you can create a beautiful space without any vivid hues, adding even a little bit of color to a living room can go a long way toward creating a relaxed and inviting atmosphere.
When in doubt, look to a cheerful blue — it's a hue that usually everyone can agree on. It perfectly contrasts warm elements such as leather and wood, and it feels just neutral enough to work with basically any other future accent colors.
7 Must-Have Living Room Decor Items
1. Furniture
This includes the usual essential items that you would typically find in any living room: sofa, coffee table, TV stand, accent chairs and side tables. Aside from being functional items that you need for your home, they also serve as decorative pieces.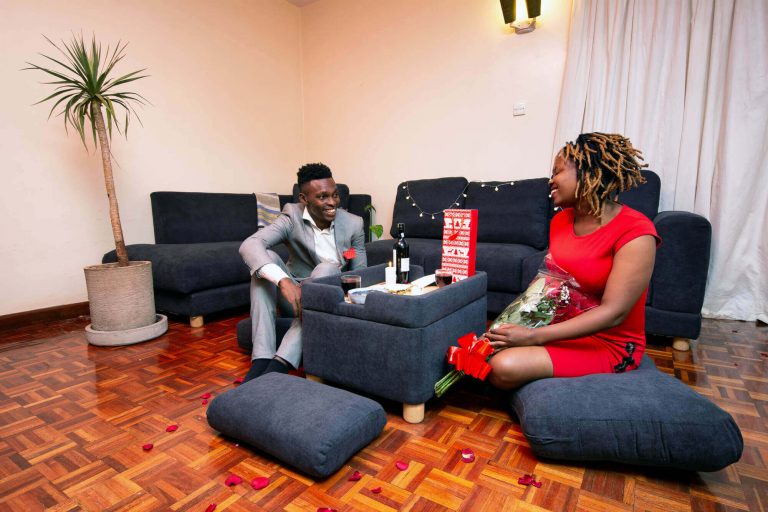 This is especially true for larger furniture pieces such as sofas, which are often considered long-term purchases. If you think about it, sofas are one of those timeless furniture pieces that live in family homes for years. Sometimes, they are even-handed down to the next generation. So the last thing you want is a sofa that doesn't match your living room decor.
That's why you need to take your time and figure out the style and color scheme you would like before making the decision to place an order. In what color should your furniture be for it to complement your living room decor? If you're thinking about painting your walls, visualizing how you'd like to arrange your living room furniture will also help you figure out which color you'd like to have on different walls.
2. Throw pillows
These soft, cute and cuddly little fellas often sit in your conversational areas and pack a punch when it comes to bringing your interior decor to life. The best thing about them is that they often come with removable covers which allows you to switch them up in a flash.
The key to throw pillows is to never shy away from experimenting. In line with your style, you can play around with different patterns and textures as you'll as colors. You can also have different shapes and sizes and experiment with having the bigger throw pillows resting on the back of your sofa and the smaller ones sitting in front.
3. Carpets/ Area rugs
Use carpets, also known as area rugs, to add a dash of style and elegance to your space. If you have your rug around furniture, the rule of thumb is to have it go under all your furniture. In case your rug is not big enough for that, ensure that you at least tuck it in under the front legs of your chairs and sofas.
You can also use rugs to partition spaces. Having two rugs in different patterns or colors in a room states that these are two separate areas of this house. This especially comes in handy in living rooms that are being used to serve different purposes such as a TV area and a dining area.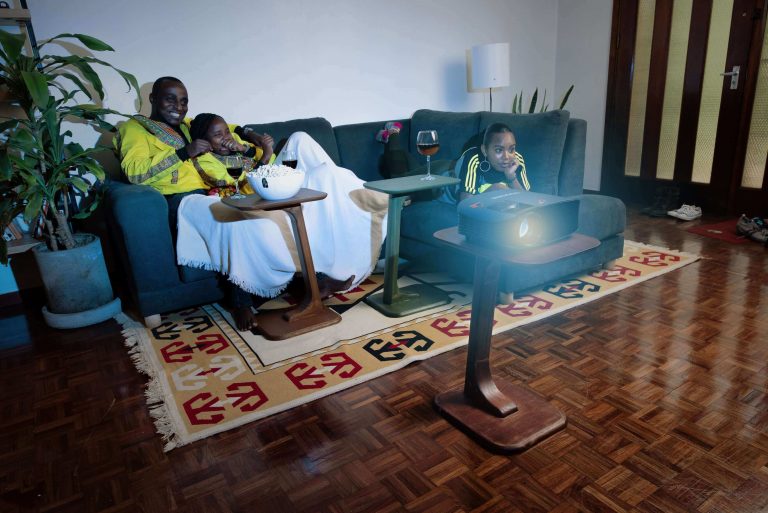 What color and pattern should your rug be? Well, that greatly depends on the color scheme you have chosen. Your sofa should guide you here. If you have a subtle color on your sofa such as a plain off-white, you can go for a patterned carpet with a little more color and vice-versa.
4. Books
Fun fact, not everyone with books in their house is actually reading them. Some people use them as decor books and they do a great job adding style and elegance to the home. There are a couple of ways you can use books to decorate your living room. One, you can stack up a couple of three to five books to raise a decor piece and help it to pop out more.
5. Lighting
Whether it's natural or man-made, light controls the mood and ambiance of your living room. It also guides the eye towards what to focus on, which helps to highlight certain areas or decor pieces. You've seen it with performance stages where a bright spotlight is used to guide the audience to focus on the performer and ignore everyone or everything else on stage.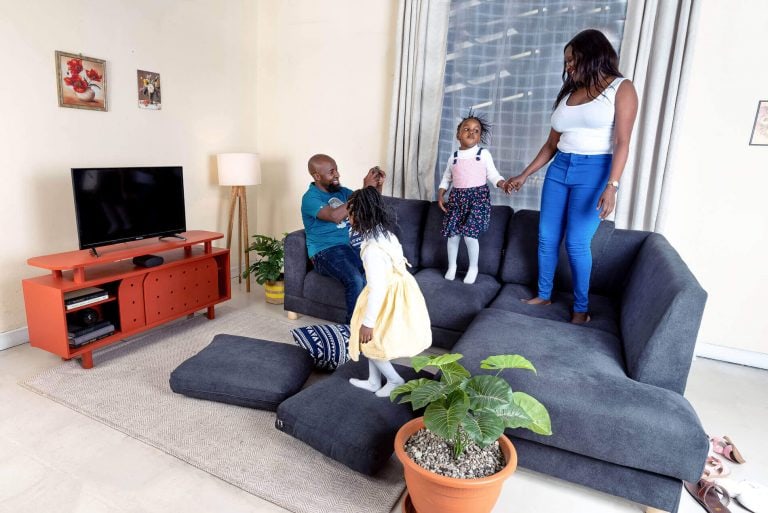 Overall, natural lighting is often better than man-made because it does a better job illuminating your room and making it seem more spacious. If you have a smaller living room, try to declutter the furniture and keep it spaced out then allow more natural light to come in. Voila! The illusion of a bigger space appears.
When it comes to man-made lights, no matter how cute it is, ensure that it serves a functional purpose before buying one otherwise it'll only consume electricity for no reason. Make use of overhead lighting, wall lights, table lamps and floor lamps to bring the right mood to life and add a sprinkle of decorative items to your style.
6. Paint
Painting your walls is one of the easiest ways to re-decorate your space and give it a fresh new look. However, you should be keen not to stray too far away from your color scheme. Use the color palette tips discussed earlier in this article to explore different colors that you can play around with and match with your furniture.
7. Curtains
Curtains are essential living room decor items for two reasons. One, they help to control the natural light entering your room. Hanging both curtain sheers and heavy curtains will help you to control the amount of light you'd like to let into your living room during different times of the day or based on different activities.
For example, your curtains could be open to allow you to use the natural light to read or work from home. The next minute, you could decide to close them to watch your favourite TV show and boom it suddenly feels like you're in a movie theatre.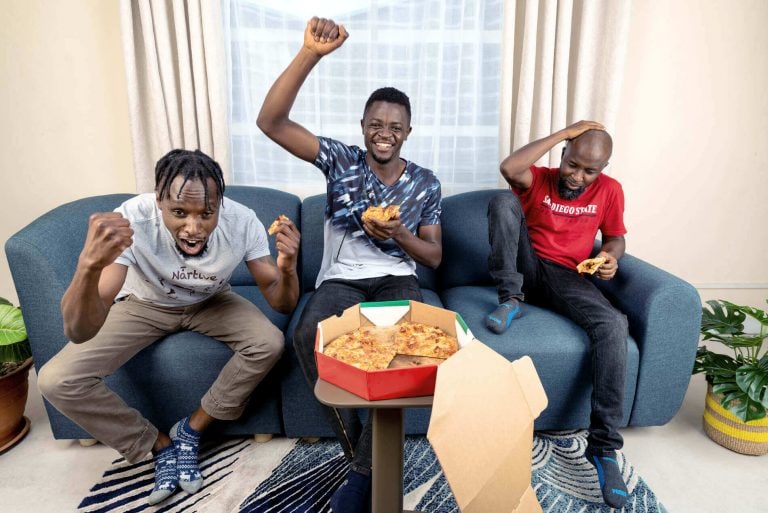 Secondly, since they often occupy a large area (depending on the size of your windows), you can use your curtains to complement your sofas, the color of your walls and generally help to bring your decor to life.
8. Art
Empty walls are a sign of an incomplete room. This doesn't mean you need to fill every inch, but decorating the walls with art is important. It's important, but it does not need to be expensive to create an enticing and cohesive look. 
What one person considers art might be drastically different from what someone else thinks. The best thing to do is to follow your instincts when it comes to what you like and what will go in your room. Get informed on the basic rules of what to hang and how to arrange it, and then let your heart be your guide.
Tips for Buying Living Room Decor & Accessories
Our tips & tricks are not necessarily written in stone, but we're still happy to but they'll when you know where to start when you're trying to recreate a look probably saw online and instantly loved.
1. Know your size limits
The very first thing to do when identifying what accessories to buy for a specific space is to measure the space's limits. If it's a shelf, you see how tall the accessory can be and identify an approximate width size too.
You can then write down these measurements on a little piece of paper (or keep it in the notes of our phone) and always carry that sheet around when you're out shopping. That way, you don't make the mistake of buying something too tall or too wide, something that can't even fit into your intended space.
2. Identify those loose guidelines
After identifying the sizes, you then note the very loose guidelines that'll help you choose what you're looking for. For example, are you looking for a few tall items, or a specific number of short/wide/colorful/neutral items, or maybe hoping to include a dash of color X?
These loose guidelines make the hunt a little less overwhelming. However, unless you've already spotted it or know where to find an item, it's advisable to avoid making a list of the exact decor items you saw on an inspiration photo because that makes the hunt a lot more challenging and way more frustrating.
3. Don't break the bank
Rarely should you ever splurge on expensive home decor accessories because you can often find things you love at affordable prices. If you're on a budget, shop at affordable places like Gikomba, Kamukunji, Toi Market or reputable IG shops such as MoKo. You can also wait till June or July when most furniture shops in Kenya have their annual sales.
4. Choose items that are meaningful
Do you know what's better than a perfectly styled shelf? A perfectly styled shelf that tells a story about the homeowner. As you shop for home decor items, try to incorporate items into your home decor that are important to your story, your travels, the important people in your life, etc. You want to look at that shelf and say, "Wow! That seashell reminds me of that time I took a trip to Diani."
5. Shop right from your home
Before you shop, look around your house and try to use items you already have. So many times you re-work items from around our house into new places in our home and instantly have a newfound love for these old pieces. Try to use what you have before buying new stuff.
6. Alternate heights
One of the most important styling tips you use is incorporating pieces with a variety of heights to add visual interest and depth. While you're out shopping keep this in mind. Layering tall things with medium-sized things and short things is important. Try to buy items of all sizes and shapes – frames included! The more diverse they are in height, shape, texture, and even color the better.
Conclusion
By now, we hope some of the anxiety to glam your home has faded away and you're feeling pumped up about decorating your living room. In case you feel stuck at any point, come back to this article, look for inspiration on Pinterest, Instagram, and check out other interior design outlets to get an idea of what a professionally designed living room should look like.
There are millions of living room design ideas you can source for inspiration. But, the vast number of living room trends out there can make the design process a bit less fun and more overwhelming. Luckily, with the tips laid out here, you'll have a better picture of what process to follow to achieve that theme you've been drooling over on Pinterest.