When you just moved into a new space, arranging your living room furniture can feel like a daunting task. There are so many options that you don't even know where to begin. Oh and let's not even get started on the fact that everything is all over the place *shudders*
Don't stress, we gat you! In this article, we'll share the most important things that'll guide you as you figure out how to set up your furniture and other living room decor items.
Ready to bring your dream home to life? Let's do this!
Table of contents
1. Measure your living room before you start arranging your furniture
This is especially important for two reasons:
a. It helps you to accurately plan your living room design.
b. It makes it easier to buy the right furniture if you have not already gone shopping.
First things first – planning. Having the exact measurements helps you to think about how to utilize different spaces in your living room to best suit your needs. What will you mostly be using the room for? These could include watching TV, as a kids' playground or even your home office.
If you have not yet bought any furniture for the house, getting the precise measurements of your living room should be your first and most important step. You'll also want to check out our in-depth sofa buying guide, where we've detailed everything you need to know before buying a sofa in Kenya.
Once you have the exact layout and measurements, it will be easier to arrange the furniture in your room once you buy it. It will also help you to avoid common mistakes people make such as guessing the sofa orientation or the number of seaters they'll need.
If I'm still house hunting, should I buy furniture after I find a house?
Absolutely! The main reason why this is advisable is that it gives you time to buy furniture that you need instead of random stuff that you saw and happened to like. You don't want to end up with a bunch of furniture pieces and decor items which don't even match your theme, do you?
2. Arrange your furniture around a single centre of focus
The biggest hurdle when it comes to arranging sitting furniture is often "where to start". Choosing a single centre of focus will help to quickly solve this. The most common example of a focal point is your TV area.
Once you have that locked down, you can now start to arrange items around it. If you have a TV stand (you can buy pretty and very affordable TV Stands HERE) , that naturally tells you where you'll place it. You can then go ahead and position your sofas in such a way that someone can easily watch the TV. The optimal distance between the TV and sofa area should be 8 to 12 feet.
3. Your sitting room furniture arrangement should allow for conversations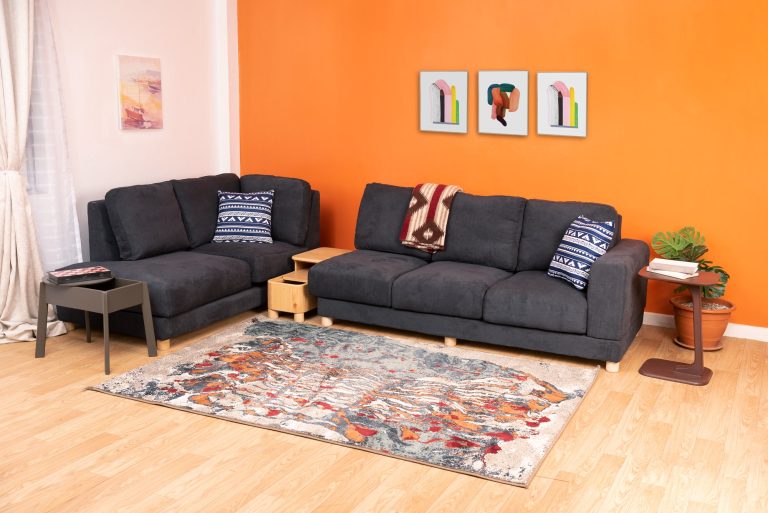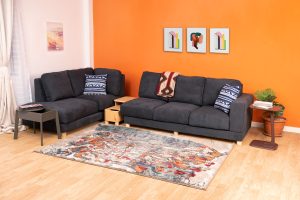 The rule of thumb here is that people should be able to comfortably converse with each other when relaxing in your living room. If they have to crane their necks or shout to make conversation, something is off.
Place your sofas at angles where they face each other. It doesn't have to be directly adjacent. You can create a 90 degree angle such as with an l-shaped sofa. If you have a large living room, you can also create multiple conversation areas. Even though you want to access the focal point such as the TV area, avoid lining up your sofas in a straight line and making your room feel like a hallway.
4. Ensure your living furniture arrangement is balanced
Don't have all the big furniture items on one side of the room and all the small ones on the other side. Mix them up. Once you've set up the larger pieces such as sofas and chairs to form your conversation areas, bring in smaller ones such as coffee tables and side tables to complement them.
Remember to always leave room for white space within your room where your eyes rest when you scan the area. Think of these as the spaces you need to comfortably walk around your living room.
The size of your room also dictates the number of furniture pieces you can have in there. If you can comfortably fit a 5-seater sofa, don't try to squeeze in another 3-seater to try and get extra seating space. Instead, explore other options such as an ottoman, footstool, pouffe or a sofa with removable cushions that can be used as extra floor seating. Whatever you do, don't stuff your room!
5. Place your tables at arm's length
First off, ensure that the size of your table is proportional to your sofas and chairs. This stands true for coffee tables and side tables. Next, make it easy to access your table by having it at arm's length. Since it'll ideally sit at the centre of your conversation area, someone shouldn't have to bend too far down or stand to pick something from your table.
If you have a small living room that might not comfortably fit a coffee table or a large room that makes it hard to share a coffee table, invest in side tables. They are a great option since they can be placed beside your sofa. That reduces the pressure of everyone having to share one table.
6. Your traffic flow controls your living room furniture layout
Ever been in a room where seats are so close together that when one person leaves, others have to stand or lift their legs to excuse them? It wasn't a pretty scene, right? You can avoid having that in your house by leaving ample space between your furniture pieces so that it's easy to walk in, out and around your sitting room.
You can also decide on how much space you need between various items based on how often you access them. For example, you need just enough leg room between your sofa and coffee table. However, you can afford a lot more space between your sofa and the TV in order to watch it comfortably without hurting your eyes or craning your neck.
Your living room furniture is all set!
There you have it! Six, simple and easy-to-follow rules that will help you to arrange your living room furniture within no time. Whether you're moving into a new house or simply thinking about re-styling your living room, you can never go wrong with these tips.