Looking into buying a sofa in Kenya? Are you worried about landing into the hands of rogue fundis who take your money but deliver poor quality furniture after dodging you for weeks? This guide is uniquely crafted to find the best sofa, just for you.
It will help you navigate the Kenyan furniture market and allow you to have an easy time buying that cozy and durable sofa for your stylish home. The first step towards getting that good quality sofa that meets your budget is avoiding these common mistakes.
Common mistakes you should avoid when buying a sofa in Kenya
There are four most common mistakes people make when buying a sofa:
Failing to measure your space accurately and buying a sofa that's too big or too small for their space.
You might be duped into buying a poor-quality sofa.
You may end up with a color or fabric you'll always regret.
Settling on the wrong sofa design or one that doesn't match your style.
Below, we take a look at each one and equip you with simple solutions to avoid these mistakes.
1. Buying a sofa that's too small or too big for your space.
Always make sure that you accurately measure your space before you order that new sofa. Take into account how much space you'd like the sofa to take up in your house so that you don't end up with too much or too little space once you buy the sofa.
2. Buying a poor-quality sofa.
Unfortunately, sofa owners will find out that they own a poor-quality sofa when it's too late. Don't fall into the same trap. Do your due diligence and check out the sofa before you buy it.
Frame – Have a seat and ensure the frame is strong and firm and does not make any creaking sounds. Try lifting the sofa as well: good quality wood is often heavy.
Fillings – High-density polyurethane foam is the most common material used for cushion fillings. It gives the cushions a firm feel and makes them durable.
If a firm seat is not for you, plush cushions made from a mix of polyfoam and softer materials like cotton or feathers will serve you well. Note that softer cushions often come at a higher cost and you will need to replace them much sooner.
Where a site visit is not possible, it's advisable to buy from a reputable furniture company. Most, if not all, will have an online presence so you easily use online reviews or your friends' feedback to determine the quality of their sofas. When buying a sofa online, always make sure you do thorough research and run like the wind if you spot any red flags.
3. Choosing a color or fabric you'll soon regret.
The rule of thumb when it comes to color or fabric is to consider who will be using the sofa. Important questions to ask that will nudge you towards the right direction are:
Do you have pets or children?
Are you allergic to a type of fabric?
Does the color match your style and room decor?
All these have been addressed in detail within this guide.
4. Settling on the wrong sofa design and style.
It's important that you avoid rushing to buy a sofa. Take your time to consider various designs and picture how the sofa will blend in with your room decor. Ask your furniture dealer for photos of that sofa in different settings; possibly in previous customers' houses.
These will help you picture exactly how and where the sofa will sit in your house. Such photos especially come in handy if you're moving into a new space or remodeling. They give you an idea of the home decor items such as curtains, throw pillows, carpets and tables you'll need to buy to make your house look stunning.
Where to find the best sofa designs
When you're looking to make a long-term investment like a buying sofa, window shopping is an integral part of the process. For most people, that journey begins with checking out various sofa set designs and prices on social media or Google. Others prefer physically visiting a fundi or showroom.
Online search
Most sofa companies nowadays have a social media presence especially on Instagram and Facebook which are some of the most visual social sites. Simply search for your favorite furniture company on social media and their sofas will pop up.
Alternatively, run a quick Google search for keywords such as "sofa set designs in Nairobi". Go to the Image search results and start checking out the sofas. Note that adding a location ensures that your search results show sellers that operate within your region.
You can start saving photos or screenshots of various sofas and disqualifying those that do not meet your taste or budget restrictions.
Physical visit
It's advisable to physically visit the furniture shop and get a feel of the sofas your vendor sells. However, note that not all the sofa designs will be available for a physical meet because storage space is often limited.
So when you visit your local fundi or a company showroom such as the MoKo showrooms, ask for their sofa catalog to check out more of what they have to offer. As you see and feel the sofas on display, you'll start to discover the sofa designs you like and those that don't appeal to you. For example, you might settle for a sectional sofa over regular sofa designs.
What's the difference between sectional sofas and regular sofas?
Sectional sofa designs come with detachable parts that make up one large sofa-set and can achieve flexible sofa layouts. Regular sofas, on the other hand, are not detachable and make a conventional straight-line design.
Each of the two options serves different needs. Regular sofas are often best suited for smaller rooms that only require maybe a 3-seater and below. A regular two or three-seater sofa could also come in handy if you're simply looking to add more seating space in your room.
Sectional sofas best serve larger families and rooms with bigger spaces that require more furniture to fill up. Thanks to their flexibility, sectional sofas come in different designs: U or L-shaped, chaise, or pit sectionals.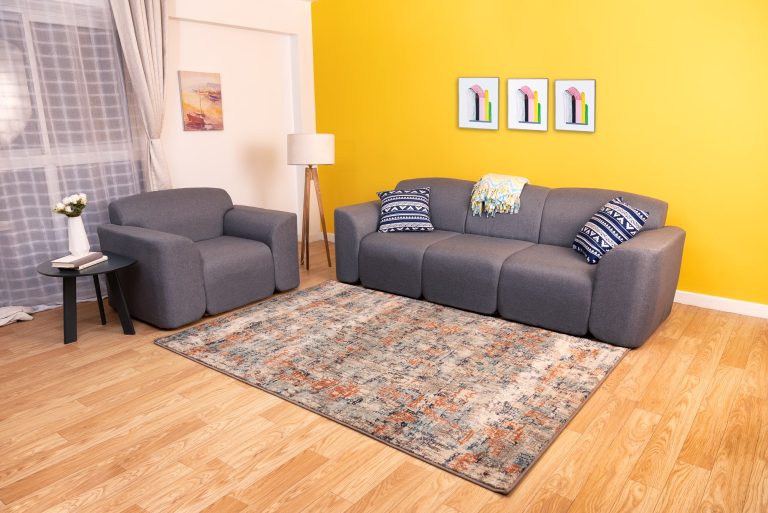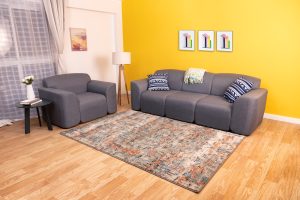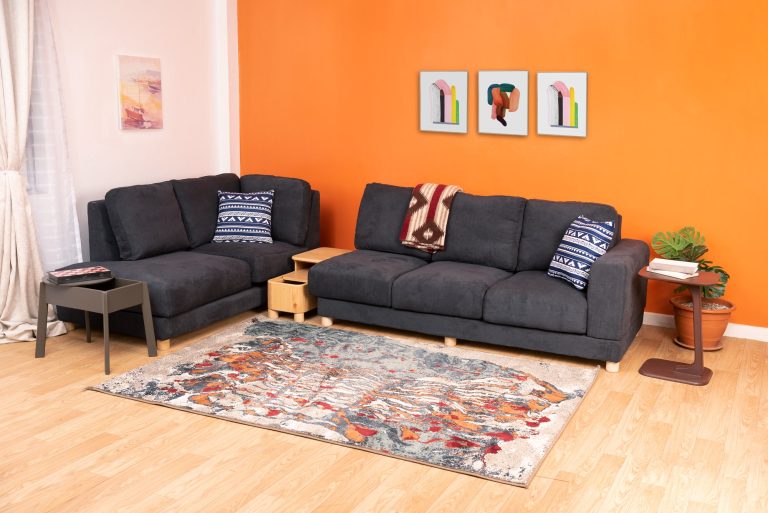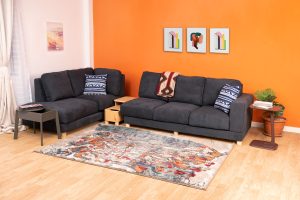 The L-shaped designs have become quite popular over time. Should you consider buying one as well? Let's find out.
L-shaped sofa designs
L-shaped sofas are undoubtedly some of the most popular designs not only in Kenya but also in the rest of the world. Some of the reasons for this include:
They are flexible sectional sofas that can easily take up the shape of your house and make use of corners that would otherwise be dead spaces.
The design makes them a comfortable spot to lie down during the day while watching TV or even as an extra bed for guests.
They provide more seating space without taking up too much space in your house. This is especially great for smaller living rooms or if you like to have ample space to move around or for your kids to play in the house.
L-shaped sofas are quite economical since they save up on money that would otherwise be used to buy extra seats.
There are several L-shaped sofa designs available. Some come with built-in storage spaces, recliners, a pullout bed or even a unique corner table. Others even come with detachable unit pieces.
With such a wide variety, it can be difficult to know which one works for you and most importantly, where exactly to place it in your house. But worry not, we've got you covered.
Where should you place an L-shaped sofa in your house?
There are 3 main spots where an L-shaped sofa can perfectly sit in your house:
With both sections backed against the corner.
With one side resting against the wall.
Centre of the room placement that provides a dramatic effect.
The best spot is highly dependent on the size of your room and your preferred setup.
Backed into a corner
This is the one of most popular positions for the l-shaped sofa. To achieve this, set the corner of your sofa at a corner of your living room and let each end of the sofa rest against the two adjacent walls.
This placement is especially great for smaller living rooms since it makes use of dead corners and opens up the middle section for rugs and accessories like tables, poufs and footstools without taking up too much space in your house.
Against the wall
In this use case, only one section of the sofa lies against a wall. The other rests in the middle of the room and can be used as a divider to separate different areas of your room. This placement is perfect for those with ample space in the living room because it's more of a style option rather than a design that conserves space.
In the middle of the room
Do you have a vast room and you're looking to fill it up without using too much furniture and decor? Then placing your L-shaped sofa in the middle of the room will work perfectly for you. Place your sofa around your desired focal point such as a TV area and voilà! Problem solved.
What is Sofa Orientation?
Now that you've figured out where you'd like to place your l-shaped or sectional sofa in your house, you know where the sofa arms will be. That's where sofa orientation comes in.
If you've visited online sofa shops such as the MoKo Jiji sofa pages, you've come across the term sofa orientation. This is basically used to help both you and the sales vendor understand where you'd like the arm of your sofa to be when buying a sofa with only one arm.
At MoKo, we use the terms mirror reflection and standard design.
Mirror reflection means that the arm of the sofa is on the left when you are sitting on the sofa while standard design means that the arm of the sofa is on the right when you are sitting on the sofa.
Note that in both definitions, you are sitting on the sofa and not facing it. You need to be very particular about this when placing an order for your sofa online.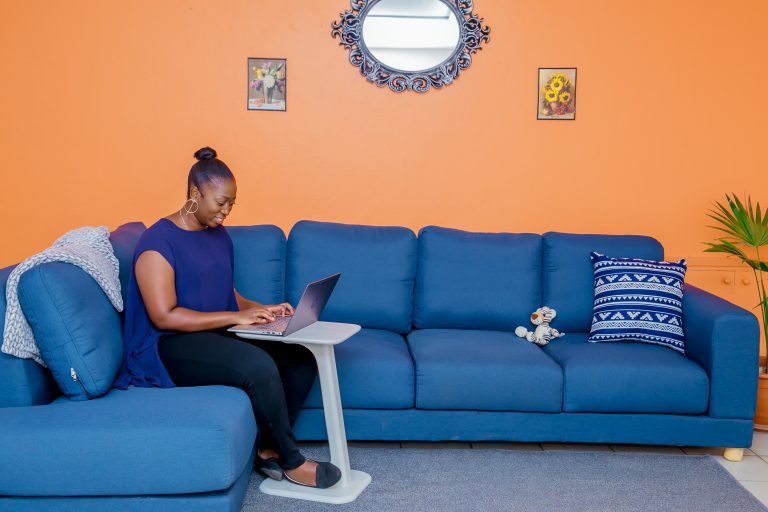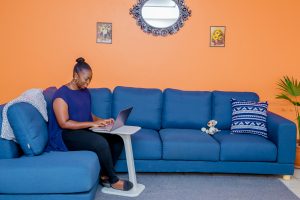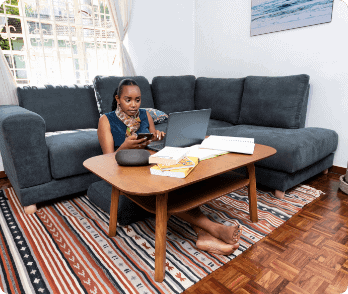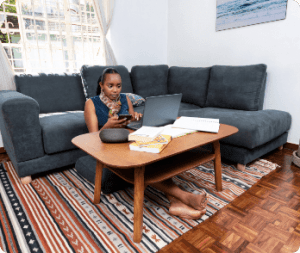 MoKo Sofa Designs
In case we haven't mentioned this so far, we sell modern sofas. They're cute, comfy, top-quality, and super affordable. You should buy one sometime.
As our sofa production team puts it, we make the kind of sofas that make people happy and that's really our goal here – to spread smiles. When you walk into any of our showrooms or visit our website, Instagram, or Facebook pages, you'll be met by two gorgeous sofa sets and a chaise. Their names are Jiji, Mr Biggie Sofa and the Jilaze Chaise. It's totally normal to name your sofas, right🙈?
Meet Jiji Sofa
Jiji is Swahili for city. True to its name, Jiji is designed to accommodate more people without taking up too much space in your living room. Doesn't that just sound like our beloved Nairobi city?
Say hi to Mr Biggie Sofa…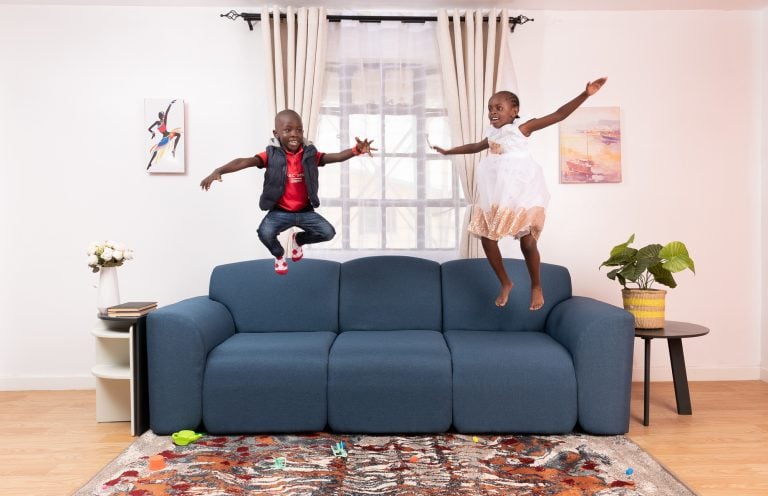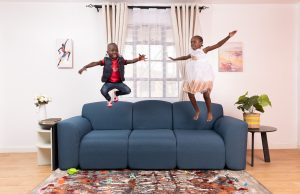 Welcome the curviest, sexiest sofa in town. Mr Biggie is your standard 3 seater sofa but ours is a different because it's bigger and cozier. The full sofa set is a six seater in three pieces i.e 3 seater + 2 seater + 1 seater
Check out the difference between Jiji sofa and Mr Biggie sofa👉🏽 HERE
How to choose the best sofa fabric for you
Aside from design, sofa fabric is another crucial decision you have to make about your sofa. There are various factors you should consider when figuring out the best sofa fabric for you:
Budget
Durability
Color and style
     1. Budget
Often, the cost of your sofa varies depending on the fabric used for upholstery. Cotton, silk, wool, leather, and linen are some of the popular natural upholstery fabrics and each one will be priced differently. When you talk to the salesperson at a furniture store or online, they will help you choose the sofa fabric that aligns with your budget.
     2. Durability
Typically, woven fabrics tend to last longer than printed ones. Additionally, the denser the fabric and the higher the thread count the better. Thread count refers to the number of threads per square inch.
It's also important to think about who will be using this sofa or even where it will be placed. Ideally, if the sofa will be in a room accessed by just a handful of people, especially adults, any material you pick is bound to last longer.
However, if you have pets or children or you're a fan of red wine, you'll want to avoid delicate materials such as silk and sofa fabrics with a lot of texture. They are more prone to wear and tear and are less forgiving to those wine stains. You should also go for a sofa fabric that's removable or easy to clean.
     3. Color and Style
Do you want your sofa to stand out or blend in with your room decor? Bold colors are best if you'd really like your sofa to stand out in the room. Otherwise, neutral colors such as grey are often a safer option since they easily blend in. If you go the neutral way, you can splash around bold-colored accessories to add more color to the room.
When choosing a color, you should also consider the environment your sofa is coming to. Avoid delicately colored sofa fabrics that cannot hide stains if you have pets or children. You should also consider how much sunlight your room gets since darker shades tend to fade over time especially when exposed to a lot of sunlight.
Ultimately, the fabric should also match your desired style. Do you prefer a plain or patterned style? Are you going for a modern or traditional look? Generally, larger sofas tend to look much better in plain styles while smaller ones get away with bold patterns.
Which MoKo sofa fabric best suits you?
At MoKo, we offer three main types of fabric: the Sven, Chenille and Woven A. They all come in various colors but the main difference is their texture. This naturally dictates other aspects such as how to clean it or how appealing it looks to your eye. Additionally, the price of your MoKo sofa varies depending on the fabric used.
To make it super simple to discover the best MoKo sofa fabric for you, check out this 3-minute sofa fabric guide. It will help you understand how your preferred MoKo sofa fabric relates to your personality. At the same time, you'll also get unique insights into what makes each of the three fabrics different from the other.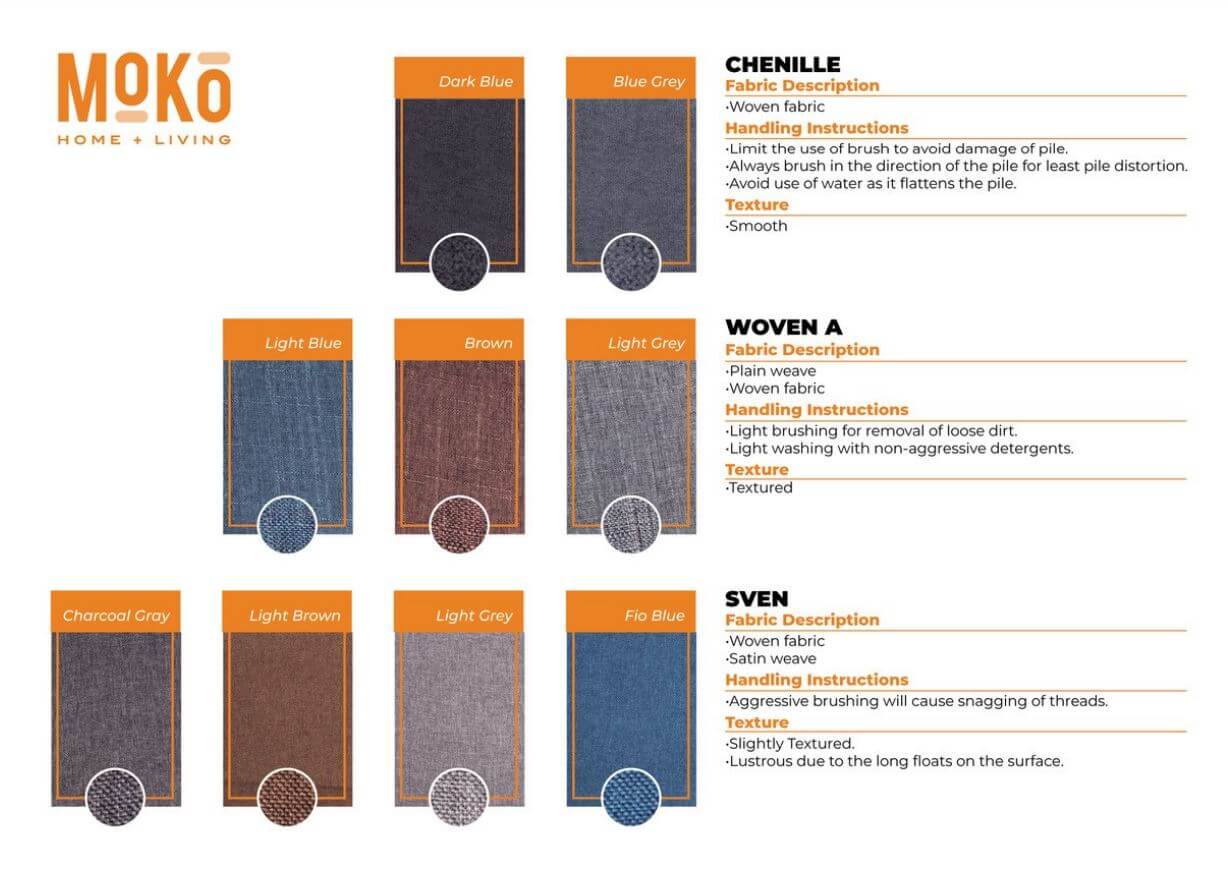 How to get the best but affordable sofa in Kenya
Let's talk cash. At this point, you've done your homework and finally settled on two to three sofa options that are best for you. Whether they are offered by the same dealer or not, these options have different prices, some of which may not match your budget.
There are 4 ways to overcome this hurdle:
Ask for product financing options
Most reputable manufacturers will provide convenient financing options for you. Find out the product financing options offered by the furniture company you're dealing with and understand the terms and conditions.
At MoKo, we have partnered with Flexpay (aka Lipia Polepole) and Aspira (aka Lipa Baadaye) to help you pay for your sofa in flexible installments. Regardless of the product financing option you choose, once we place your order, it takes 1-2 weeks to make your sofa and delivery it to your home.
Consider reupholstering and refinishing
If you already own a sofa and its frame is still in good condition, your old sofa may only need reupholstering – stripping the sofa down to the frame and fitting it with new fillings and covers. Finding a reputable fundi or furniture company that can give your sofa that much-needed facelift will slightly reduce the cost you'll incur; compared to getting a new one.
P.S. MoKo does not offer reupholstering and refinishing services.
Pursue company discounts
If you're not in too much of a hurry to buy that sofa, you could wait for special occasions when companies offer discounts. Black Friday sales and end-of-year discounts are some of the most common. The biggest disadvantage to this is that it's unpredictable. Some furniture companies do not offer discounts at all. For those that do, you have no guarantee that the sofa you've developed a crush on will be sold at a discount when that time comes.
Explore garage sales and moving sales
People who are moving out of the country or to a new town can be a great source of good quality sofas. However, you need to be careful because most of these deals are posted on online platforms, which are littered with con artists and poor quality items. This makes it hard to find good quality second-hand sofas. Most importantly, beware of people trying to dispose of their bedbug-infested furniture.
With this extra caution in mind, you can check out some of these common places to find second-hand sofa sets at a bargain:
Facebook market places such as:
Ask your friends and family if they know people looking to sell their sofas.
Sofa-r so good?
If you've made it this far, you can rest assured that you'll not be making any of the common mistakes most people make when buying a sofa in Kenya. We've addressed critical pain points, ranging from the best designs and fabric to securing the best price.
As a company that's dedicated to spreading smiles, we truly hope that this guide helps you have a smiley experience buying your sofa in Kenya. Whether you're looking to buy a MoKo sofa online (which we really hope you are considering at this point) or buy from your local fundi, these tips and tricks will arm you with the right tools to make the best decision.